Toothsome Images / Recipe: Roasted Herbed Roma Tomatoes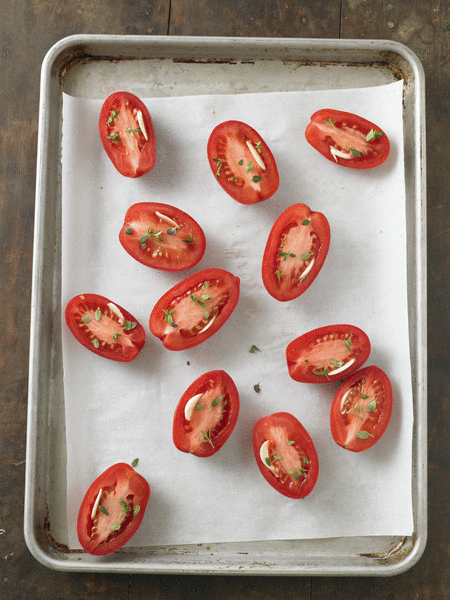 You've waited patiently for months and now it's finally time to reap your fresh harvest from the vine. These juicy tomatoes are great to have on hand  for a snack or side dish. They are perfect with pasta and will make any ordinary sandwich a whole lot more flavorful.
Roasted Herbed Roma Tomatoes
Makes 12 halves
6 California Roma Tomatoes
2 garlic cloves
1 tbsp olive oil
1/2 tsp dried thyme leaves
1/4 tsp salt
Directions
1. Preheat oven to 300°F. Line a large baking sheet with parchment paper.  Slice tomatoes in half lengthwise and cut out and discard the stem.  Place tomatoes on parchment cut-side up.  Very thinly slice each garlic clove into at least six slices.  Poke one or two garlic slices into each tomato in seeds.  Evenly drizzle with oil then sprinkle with thyme and salt.
2. Roast uncovered until shrivelled and tender, 1.75 hours.  After 1 .25 hours, spoon any juices that have come out of tomatoes back over top.
Enjoy!
About the author: Darcie expresses her grand appreciation for gorgeous food, curating the stock website Toothsome Images. Her eye for detail makes her a powerhouse in the production of special projects. Outside of work you can find her playing in her garden or riding her bike while posting awesome bike photos to Instagram @idarcie